Advertising Rates
​​​​​​​​​​​​​​

Thank you for your interest in the Orange Peel Gazette.
Celebrating our 25th year in business. We are the widest read free publication in Florida. The Orange Peel Gazette of Osceola County is published monthly and distributed to over 350 locations throughout Saint Cloud, Lake Nona, Kissimmee and Poinciana. We have also begun expanding our distribution into the South Orlando/Hunter's Creek area.
Most advertising mediums get overlooked as junk and discarded, or goes straight from the driveway into the recycle bin. Unlike these, The Orange Peel Gazette actually gets read and enjoyed by quality consumers due to the unique content, humorous stories, trivia, and refreshing articles.
In today's tough economy, you cannot afford to not advertise your services and products in a paper that is known for "Connecting Customers to Businesses... That's What We Do BEST!"
Please check out the quick reference rates below. Please call our office at 407-892-5556 to speak to a representative for more details or if you have any questions.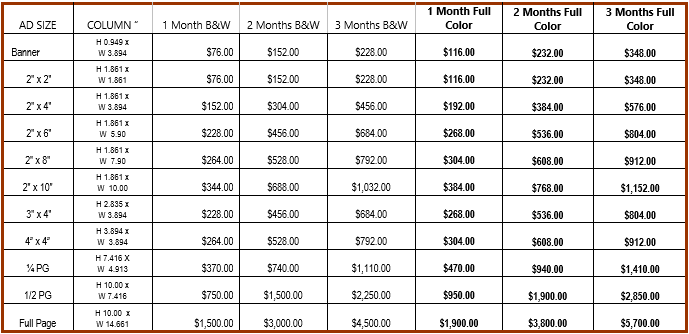 *Extra charges apply for Front and Back Page placement (if available - current active wait list).
Classified Ads​​​​​​​
Four (4) Lines for $30.00/Month. Additional lines of text are $4.00 each per month.
1 Line = 30 Characters including spaces, punctuation, etc.